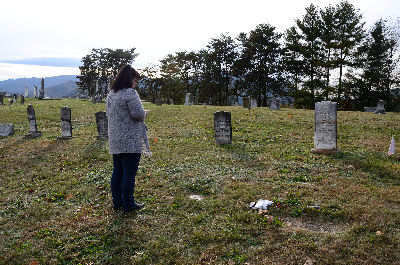 What a lot of you might know, is that many years ago a book was written (by my cousin) about a soldier's odyssey during the civil war called Cold Mountain. Eventually, it would be turned into a movie with Jude Law playing the character of my uncle. What a lot of you don't know is that decades before that, I had a school project involving family history and the family story I focused on is one that would fuel my passion for genealogy and historical research until the day I die. The book/movie took real people and their lives and fictionalized it, because in all honesty, the only things that are the same are the name of the main character and the fact that he was a soldier in the civil war and was shot on top of a mountain.
In the movie the beautiful (if you like those kind of looks), but the useless Ada Monroe (played by Nicole Kidman) moves to "Cold Mountain" with her preacher father where the town is conveniently building a church which leads to many an awkward run in between Inman and Ada where little conversation is actually exchanged.  Evidently she just looked great carrying around trays of drinks. In actuality this church was not built until 1902, when Pink had been in his grave 37 years.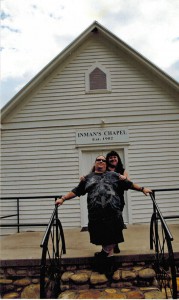 We spend the first half of the movie being "convinced" these non conversations have the two of them falling so madly in love that when Inman gets wounded at Petersburg he spends way longer than it should have taken, trying to get home to her. The second half of the movie shows us just how useless Ada is while being berated (brilliantly) by Ruby Thewes for all her short comings. I have to stop and say right here, that the casting of Renee Zellweger in this part was masterful, there are still women up there today just like Ruby, and they scare the pants off of me! We get to enjoy Inman's (mis)adventures on his way home which provides us with more than the token amount of nudity and makes you ask yourself, "remind me why he's going home to that waste of space Ada?"
***Spoiler Alert*** Inman makes it back home, they manage to have time to shave his beard AND have sex before the token albino shoots him dead in a scene straight out of a wishing well (yes, I know Charlie Hunnam is not an albino, but they HAD to do something to try to "out goth" Jack White didn't they?) In the end we see that the all too brief pre-buckshot carnal relations high on that mountain result in a child and everyone else lives happily ever after. At least he died without that awful awful beard.
Now that we have recapped the fiction, please indulge me and pick up a copy of "Paranormal Fakelore, Nevermore: The Real Histories of Haunted Locations" to read the real story of my great uncle Pink.