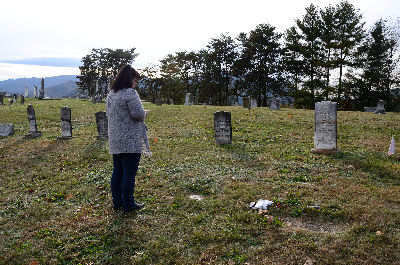 What a lot of you might know, is that many years ago a book was written (by my cousin) about a soldier's odyssey during the civil war called Cold Mountain. Eventually, it would be turned into a movie with Jude Law playing the character of my uncle. What a lot of you don't know is that decades before that, I had a school project involving family history and the family story I focused on is one that would fuel my passion for genealogy and historical research until the day I die. The book/movie took real people and their lives and fictionalized it, because in all honesty, the only things that are the same are the name of the main character and the fact that he was a soldier in the civil war and was shot on top of a mountain.
In the movie the beautiful (if you like those kind of looks), but the useless Ada Monroe (played by Nicole Kidman) moves to "Cold Mountain" with her preacher father where the town is conveniently building a church which leads to many an awkward run in between Inman and Ada where little conversation is actually exchanged.  Evidently she just looked great carrying around trays of drinks. In actuality this church was not built until 1902, when Pink had been in his grave 37 years.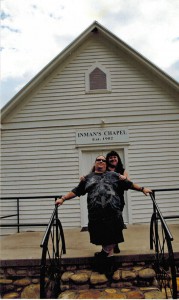 We spend the first half of the movie being "convinced" these non conversations have the two of them falling so madly in love that when Inman gets wounded at Petersburg he spends way longer than it should have taken, trying to get home to her. The second half of the movie shows us just how useless Ada is while being berated (brilliantly) by Ruby Thewes for all her short comings. I have to stop and say right here, that the casting of Renee Zellweger in this part was masterful, there are still women up there today just like Ruby, and they scare the pants off of me! We get to enjoy Inman's (mis)adventures on his way home which provides us with more than the token amount of nudity and makes you ask yourself, "remind me why he's going home to that waste of space Ada?"
***Spoiler Alert*** Inman makes it back home, they manage to have time to shave his beard AND have sex before the token albino shoots him dead in a scene straight out of a wishing well (yes, I know Charlie Hunnam is not an albino, but they HAD to do something to try to "out goth" Jack White didn't they?) In the end we see that the all too brief pre-buckshot carnal relations high on that mountain result in a child and everyone else lives happily ever after. At least he died without that awful awful beard.

Now that we have recapped the fiction, please indulge me, and allow me to tell you a little of the real story that encompasses over 30 years of genealogy research and lead up to the investigation that David and I did on a gorgeous fall afternoon in October of 2013.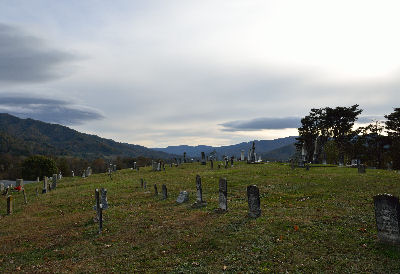 Waynesville, NC is a western mountain town and just a little east of that is a town named Canton. My family on my daddy's side is from both of these towns. My 3rd great grandfather, Daniel Logan Inman (born 1827) was one of many children as was his wife Elizabeth Swanger. These families intermarried and were close friends. Daniel had a brother whose full name was William Pinkney Inman (this would be the "Inman" portrayed by Mr. Law) and was known as Pink. Elizabeth had a brother named John Swanger and though the movie completely leaves him out (even though they included a Swanger family), the real tale involves John just as much as it does Pink.
Both men did their duty and enlisted to serve the Confederacy in 1861. John was older than most at 37, and used his trade as a blacksmith with the 19th Regiment in the 2nd Cavalry. Pink was a 22 year old farmer and he enlisted as a private in the 25th NC Infantry. John was in just a few short months before he became disabled and was discharged. Pink was in and out over the course of several years, meaning that he would go AWOL and then return for awhile and then go AWOL again. He was wounded at the Battle of Malvern Hill in July 1862 and spent some time in the hospital. During his time in service and his subsequent desertions, Pink and Margaret Henson were married and their child, Willie Ida Inman,  was born in August of 1864. Around the time of her birth, Pink was wounded in Petersburg and put in a hospital in Danville. He left the hospital and Confederate service for the last time and headed home. It was the events starting at that time that would be both his and John's downfall.
We know from history that the union army took the town of Knoxville, TN in 1863, and we know from a biography published from his journals in 2002 that a man from Haywood County (where both Waynesville and Canton are) named Samuel Massey worked as a Union recruiter. He was a southern man paid to convince southern men to join the Union army, and he was good at it. At some point after John was discharged from the Confederate army he joined up with Massey, taking men over the NC mountains into Knoxville to sign them into Union service.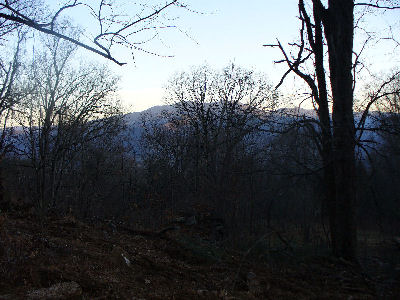 After Pink came home, he joined in John and Sam's endeavors to add to the numbers of the Unionists and in the winter of 1864 they made several trips. Sworn testimony by several men at a congressional hearing of the fiftieth congress for Sam's federal pension application shows that at one point General Carter in Knoxville asked Sam to take his men and go break his cousin and nephew out of the Waynesville jail and this was the beginning of the end for Pink and John. They gathered some additional men and headed back home, with John carrying recruiting orders from General Carter.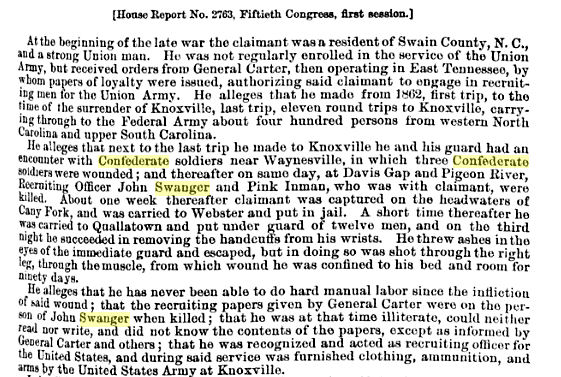 The outcome of the trip included betrayal by one of John's cousins, a cat and mouse chase over the mountains, and the deaths of my uncles, Pink & John. Over 100 Confederate soldiers chased Sam and his men trying to capture or kill them. Pink and John, exhausted after a day long battle over the rugged mountain terrain, were overtaken and brutally shot while their hands were in the air, their bodies left in the woods like wild animals not fit to eat. Sam and most of his other men got away, but they did not get a chance to perpetrate the jail break.
This is an excerpt from an article in the Waynesville Mountain Courier in 1919

Various versions of family stories say that someone that lived on the mountain found Pink & John's bodies and got word to Pink's father who lived at the bottom of the mountain. He dragged a sled up the mountain, through the snow to recover them and bring them a mile back down to the cemetery he himself would later be buried in. He dug a hole and buried them together in an unmarked grave, leaving them to return to the earth and their story to be mistold and finally forgotten for over 140 years, until the dogged perseverance of myself and my mother ferreted out the truth amid the rumors and eventually the "movie hype".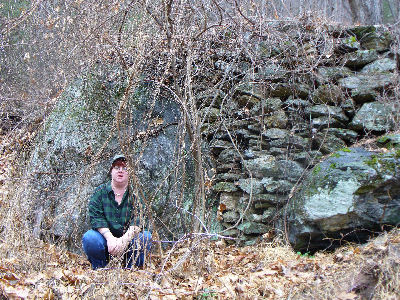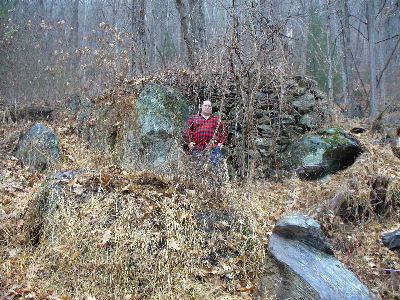 Dave and I have been to that high spot on the mountain where they were shot and I have made numerous trips to the cemetery they are buried in.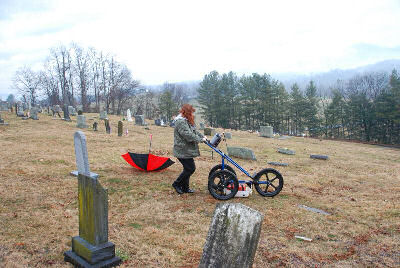 In 2012 I took GPR equipment to validate the rumored location of the grave and I did successfully confirm that it did indeed contain the remains of two people.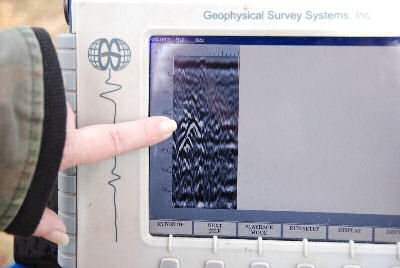 Just remember the next time you read a book or see a movie "based on real people", it is never what actually happened, dramatic license kills any chance of that. Maybe it is because I am a descendant of this family, maybe it is my passion for the historical truth or maybe it is a combination of the two, but I have a drive for Pink's real story, the good and the bad to be told, and it does not include Philip Seymour Hoffman running around in his long johns, although that part was very amusing, and if it happened now it would definitely be worth of investigating, since he's dead.